Turtleback Mountain has a couple of trails.  This post is about the trails accessible via the south trailhead.  The trek starts at about 120 feet elevation at the trailhead and climbs to 920 feet at Ship Peak.  It is about 1.5 miles, one way, from the parking lot.
The first third of the trail is a service road.  At the beginning of May, the trail is covered in pollen cones that give the trail a red coat.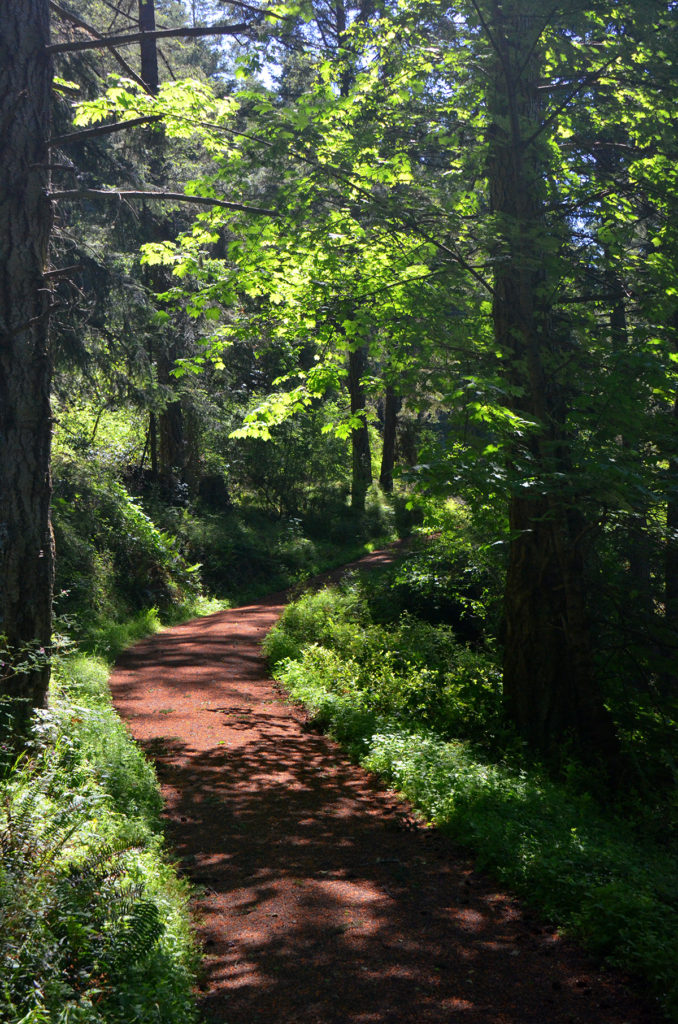 Along the path, one will find wild roses and wild cucumber vines.
A bench and signage note the Gerry Oak and the non-poisonous, sharp-tailed snake common to the area.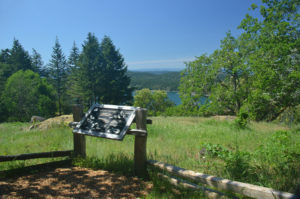 As one gets about half way to Ship Peak, the first glimpse of one of the more scenic views in the world shows up.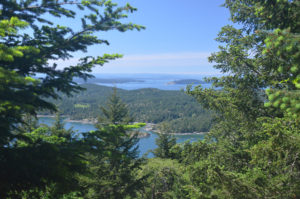 Overlook of West Sound Marina.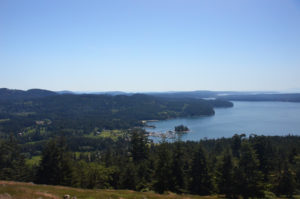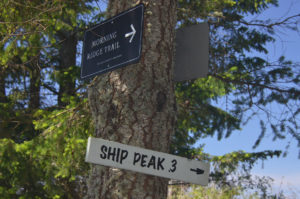 Along this trail, you'll see west toward Vancouver Island, south toward the Olympic Mountains, east toward the Cascade Mountains and East Sound, and north toward Canada. At the "top" is Ship Peak. There are higher points on the mountain; but, for many, this is the destination and the best view.
The road through the center of this panoramic image is Nordstrom Lane. The large hill just left of center is Mount Constitution. Behind it and out of view is Mount Baker. One gets a glimpse of America's Cascades, though. The valley in the foreground is Crow Valley. On the far left, one can see Vancouver, B.C. with the Cascades in the background.

On the return trip, one can take the Morning Ridge trail that is a bit narrower and steeper for a while as well as less shaded than the main trail up.  Or, one can continue past Ship Peak, go north, and return via the Lost Oak trail.  This takes a more wooded, shaded route, but it is just as beautiful. It is steep in spots and likely slippery when wet.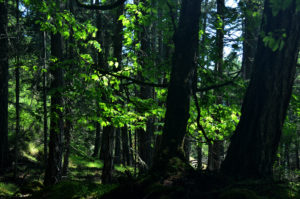 As always, click on any image to make it larger.