We were on our way out of town for a hike up Turtleback Mountain when we noticed that the tide was out, and the tombolo (Italian word for sand bar that shows up at low tide connecting an island to a bigger island or mainland) was exposed.  Normally, Indian Island is surrounded by water that is at least waist deep and cold.  Here is a photo by Edee Kulper, showing what it looks like normally.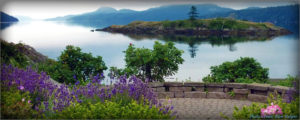 So, we decided to detour and explore the island instead.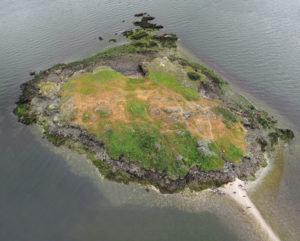 For the above photo, someone named PokyTom (on Flickr) flew a kite with a camera and took a picture of the island at low tide. It is an interesting perspective. The island is about an acre in size or about the size of a football field.
There are a couple hundred sea stars living around the island. At low tide, they are under nearly every rock. There were a few out in the sun away from a protective rock; so, they were easier to photograph. The colors were quite vivid. All of the ones here are Ochre Stars. Even though they are different colors, they are the same species.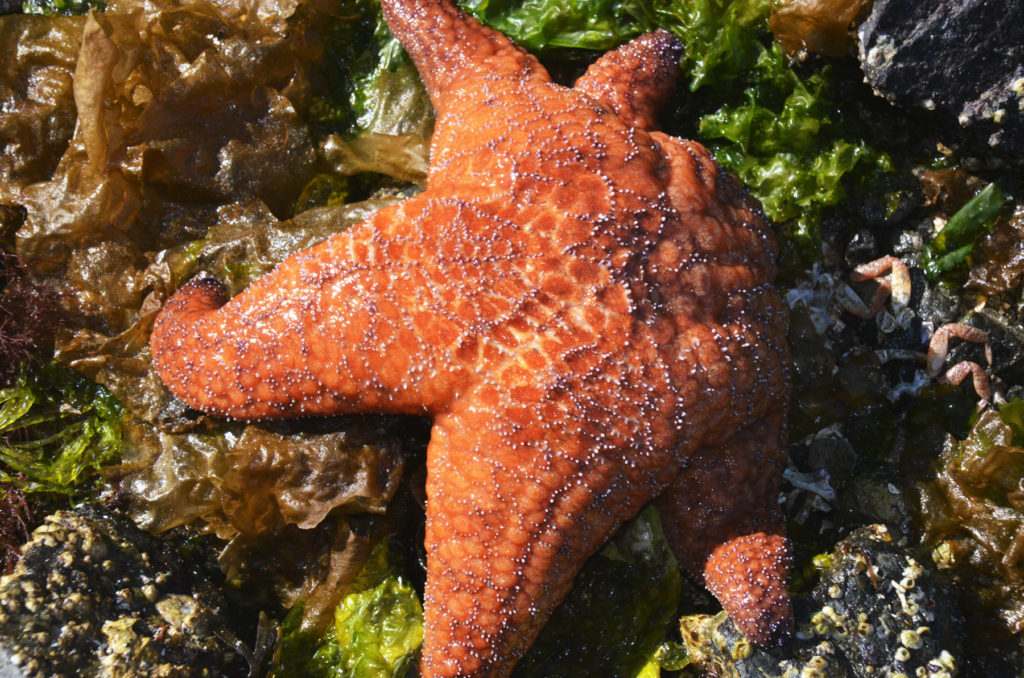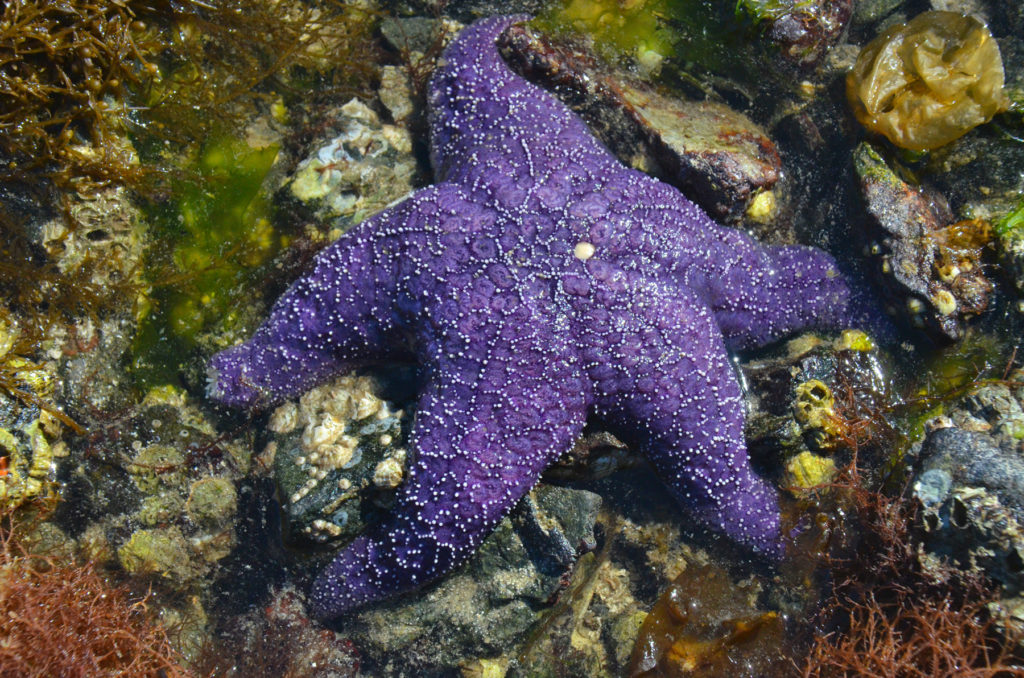 Many of the rocks are covered with Sea Lettuce. When the tide is low, it drapes over the landscape and is very slippery. Combine that with very sharp barnacles on the rocks, and a slip would be painful.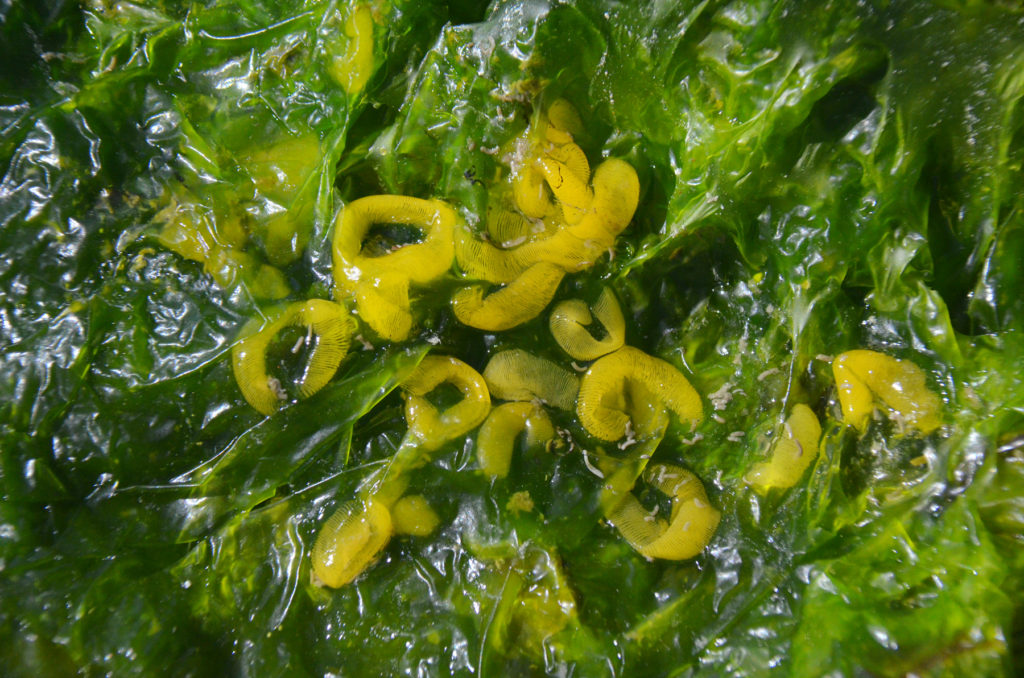 These red ones are perhaps Christmas Anemones?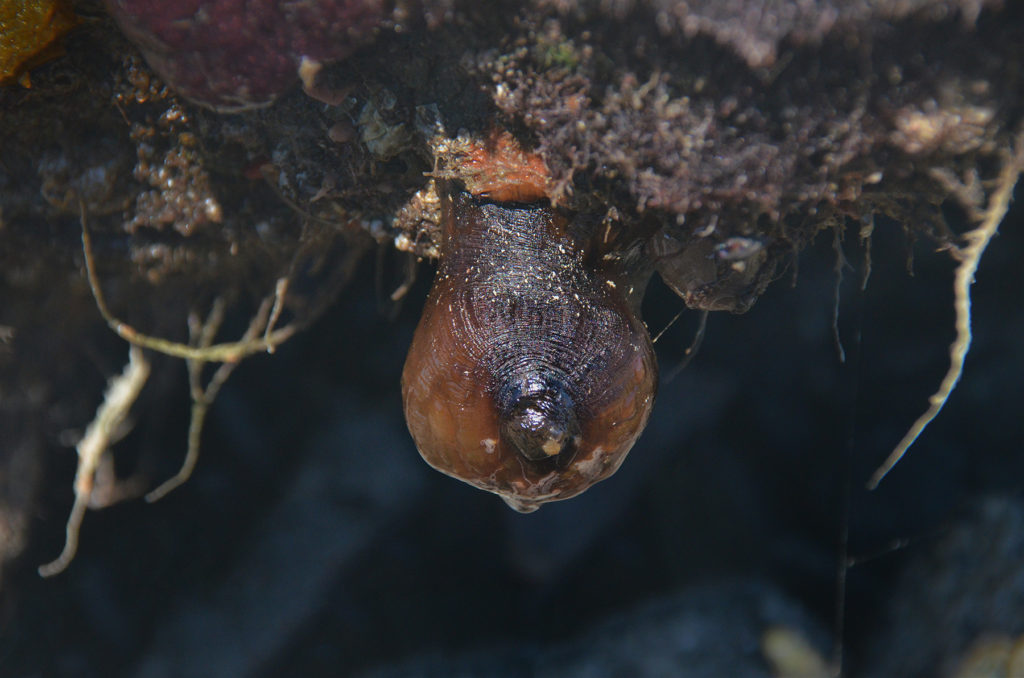 Indian Island is along the flight path for the Orcas Island airport.  In the couple of hours we were there, about 20 to 30 planes landed.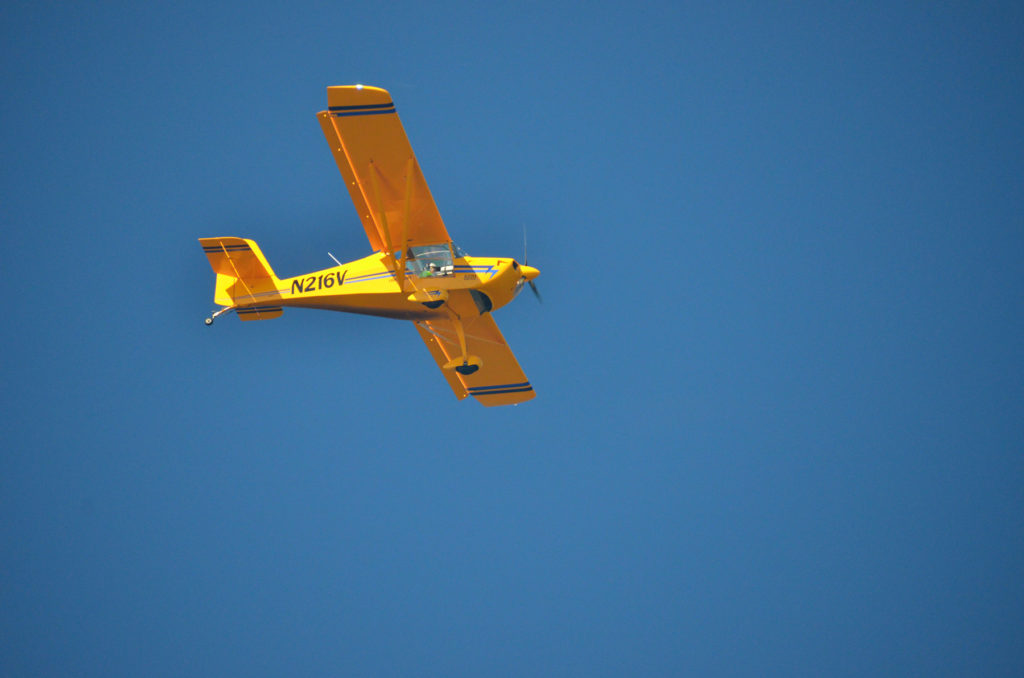 The island is a nesting site for several species of birds, including some Canadian Geese.  It is also home to wildflowers.  I am a sucker for flowers.
And, there are a lot of succulents. We greatly enjoy them, too.
Indian Island is an interesting place. There were a couple of volunteers, Robin and Michael, who were donating their time to answer any visitor questions about the island and the critters there. They are members of Kwiaht.  Apparently, about 4,000 people visited the island last year. Most people choose to do that when the tide is low enough to get there without getting too wet. That is about 50 days a year. Among the other visitors to the island while we were there was someone from New Mexico who'd been to Orcas Island several times, but this was her first time to Indian Island. Another originally came from Texas, but now lives in Seattle. Whether you are a visitor or even a local who has never gotten around to taking a walk out to the island, it is worth a stop.
You have likely seen those sidewalk fountains kids play in where water shoots up every so often. Well, walking the sand around the island is a bit dangerous if you don't like getting a little wet, as the horse clams like to squirt water up from the sand in which they are buried. They can shoot it about 2 feet above the surface. No doubt this kind of thing has existed for thousands of years. But, for people who come from hot, dry, dusty mid-America, it is a bit strange to see the sand erupting with fountains. That little thing with the yellow center in the image below is where you find the siphon for a horse clam. The siphon is about a foot long and connects to the clam that lives down in the mud. Apparently, they are tasty, if you are willing to dig them up.  Google horse clams for some interesting images.  While we were there, a horse clam scored several direct drenchings of the Texas girl. The green stuff around the siphon is eel grass. Many believe that it is a critical habitat for spawning and juvenile fish.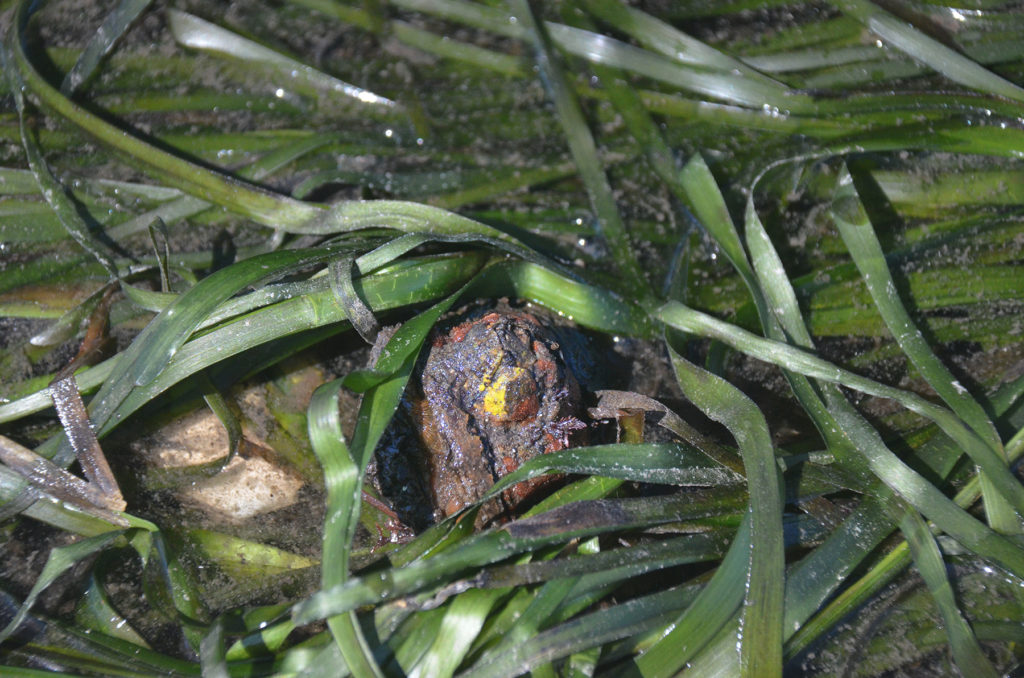 As always, click on the images if you want to see them bigger.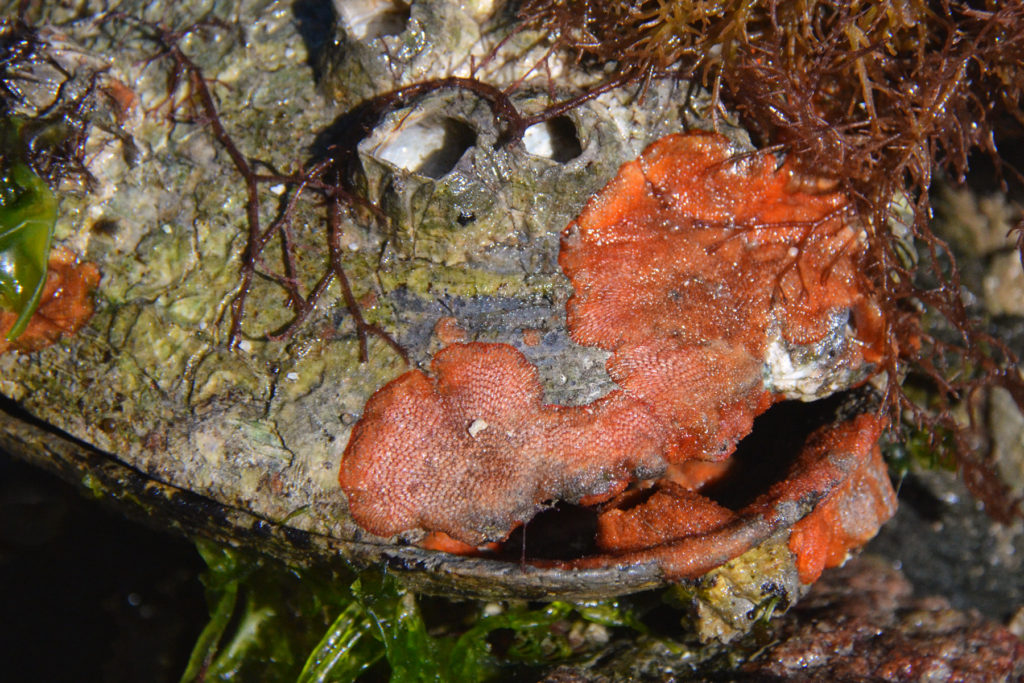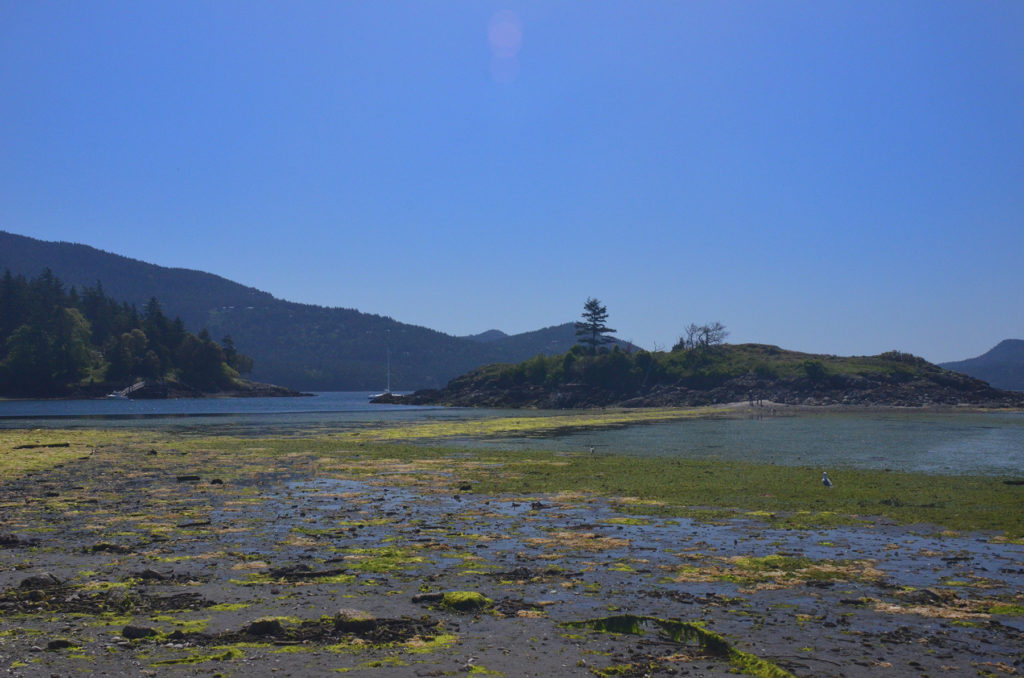 See the full photo set for Indian Island on my Flickr page.