We have visited Obstruction Pass State Park a few times, but this is the first time that we visited during low tide. An island friend had suggested it. Thank you!
The puddles on Orcas' beaches are not the same as the mud puddles we have in Nebraska. There, we might find a pollywog, if the puddle manages to stay for more than a few days. Or, perhaps we'd see some mosquito larvae. But, the puddles on Orcas have some strange creatures. We've been looking them up online and via library books, but I have no idea what this is (click to enlarge). Perhaps someone can enlighten me.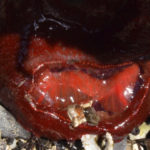 We found lots of Ochre Sea Stars – sometimes called starfish by us less sophisticated. Even though they come in orange, brown and purple, they are the same species. We only found orange and purple.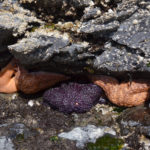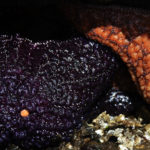 Here is a post on a theory about what makes them the different colors.
The ratio we saw at Obstruction Pass was about 75% orange and 25% purple.  The browns didn't show up for the party.
Sea stars like to hide under rocks, so they are not the easiest to photograph. They are often in the shade, partially exposed, with much of their body hidden in some crevice.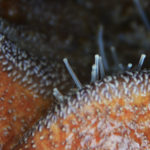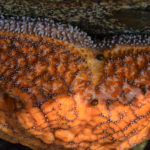 I think this might be an unfinished work by a clay sculptor or maybe a blob or perhaps an anemone. I know that I have never seen them in the mud puddles with which I am familiar.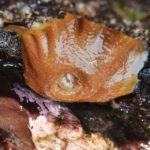 Same here, only perhaps it is a sea slug?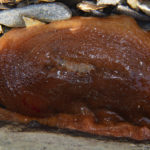 The Elegant Anemone is interesting.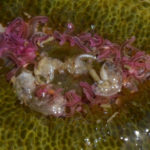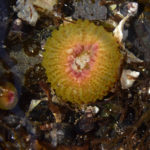 For more photos, visit my Flickr album